With the withdrawal of world number 1 Lin Dan, the competition for the Men's Singles champion has become considerably closer. Who will prevail in the absense of Super Dan? Can Lee reclaim what was lost? Can Gade defend his title?


Lee Chong Wei (1st Seed)
Although generally not known to be good under pressure (as all Malaysian badminton players are), Malaysia is after all, Lee's 'zone'. He has won 3 Malaysian Open titles here, and now appears to be the favorite to claim his 4th title. However, he does not have the luck of the draw with him. He will meet fellow Malaysian Hafiz Hashim in the first round. Hafiz is hitting an all time rock bottom low, and can only take consolation in the fact that he was the last Malaysian to beat him, in the 2006 Singaporean Open. Admittedly, that was during the first round, and Lee was not properly warmed up then. If Lee proceeds, he most probably will be Polish giant killer Wacha Przemyslaw, and is expected to face off with Indonesian ace Taufik Hidayat in the Asian battle of titans. However, considering Taufik's condition, Lee should be able to make it through to set up a meeting with Chen Yu or Peter Gade, the latter being the more likely Semi Finalist. In the finals, if Lee makes it that far, he is tipped to meet Bao Chunlai. Indded, Lee probably has the toughest draw of all:- Hafiz Hashim, Wacha, Taufik, Gade, and then Bao. Can Lee prevail in front of the always supportive Malaysian crowd?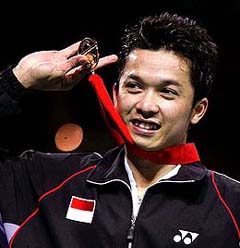 Taufik Hidayat (6th Seed)
Indonesian fans will be hoping that their favorite shuttler, Taufik Hidayat will deliver once more for them. Taufik is planning on defending his title next year in the Beijing Olympic Games, and he will need precious ranking points to gurantee him a good seeding in what may be the last tournament of his career. However, Taufik's stamina is obviously in quesiton, as it is rumoured that he cannot survive a 3 set game. Many people have labled Taufik as a spend force, but he might be able to make some noise: after all, the only title he won last year was the Asian Badminton Championships in Malaysia. However, meeting home crowd favorite Lee Chong Wei in the quarterfinals might hamper his chances somewhat.



Bao Chunlai (2nd Seed)
In the other half of the draw, we have Bao Chunlai, who faces an easier path. Hong Kong player Chan Yan Kit stands in Bao's way, and then it is either Chen Hong or Wong Choong Hann. After that it is Kenneth, then possibly Chen Jin or Sony Dwi Kuncoro. After that, it would probably be Lee Chong Wei. This will probably be promoted as a grudge match (I believe in real life, Bao and Lee are good friends); with Lee losing under extremely dubious circumstances the last time the both of them met:- in the finals of China Open (for more information, read here). With the absense of Chinese favorite Lin Dan, China will be banking on Bao to suceed. Will he crack under pressure, like he is famous for, or will he sieze the occasion? Can he prove that he is not just a pretty boy? :)


Chen Jin (3rd Seed)
The world number 4 and the third seed in this edition's Malaysian Open is, and in my books, an extremely lethal player, and one of the favorites to claim the Malaysian Open title, partially because of his luck. Chen has the luck of his draw on his side; the first challenge he will meet is in the Quarter Finals, where he will meet Sony Dwi Kuncoro. If he manages to proceed, he will meet Bao Chunlai. Providing everyone's favorite coach Li Yongbo does not order a walkover, Chen will meet Lee Chong Wei. If Chen manages to prevail here, it will stand him in good stead to defend his title.

Stay tuned for more updates and predictions from The Badminton Blog